SGT William D. Port*
Medal of Honor Citation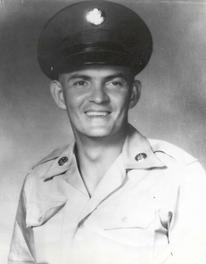 Rank and organization: Sergeant (then Pfc.), U.S. Army, Company C, 5th Battalion, 7th Cavalry, 1st Air Cavalry Division
Place and date: Que Son Valley, Heip Duc Province, Republic of Vietnam, 12 January 1968
Entered service at: Harrisburg, Pennsylvania
Born: 13 October 1941, Petersburg, Pennsylvania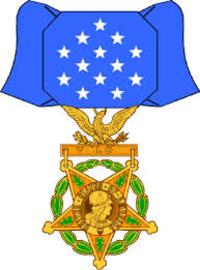 Citation: For conspicuous gallantry and intrepidity at the risk of his life above and beyond the call of duty. SGT Port distinguished himself while serving as a rifleman with Company C, which was conducting combat operations against an enemy force in the Que Son Valley. As SGT Port's platoon was moving to cut off a reported movement of enemy Soldiers, the platoon came under heavy fire from an entrenched enemy force. The platoon was forced to withdraw due to the intensity and ferocity of the fire. Although wounded in the hand as the withdrawal began, SGT Port, with complete disregard for his safety, ran through the heavy fire to assist a wounded comrade back to the safety of the platoon perimeter. As the enemy forces assaulted in the perimeter, SGT Port and 3 comrades were in position behind an embankment when an enemy grenade landed in their midst. SGT Port, realizing the danger to his fellow Soldiers, shouted the warning, "Grenade," and unhesitatingly hurled himself towards the grenade to shield his comrades from the explosion. Through his exemplary courage and devotion he saved the lives of his fellow Soldiers and gave the members of his platoon the inspiration needed to hold their position. SGT Port's selfless concern for his comrades, at the risk of his life above and beyond the call of duty are in keeping with the highest tradition of the military service and reflect great credit on himself, his unit, and the U.S. Army.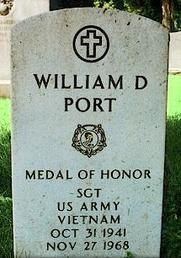 *Awarded Posthumously
SGT Port survived the blast, but was seriously wounded and captured by the enemy. He died while a prisoner of war ten months later and was initially buried in a jungle grave along with 8 other prisoners. His remains were recovered in August 1985, and he was buried in Arlington National Cemetery two months later.  His posthumous Medal of Honor was approved and presented to his son and daughter by President Nixon on 6 August 1970.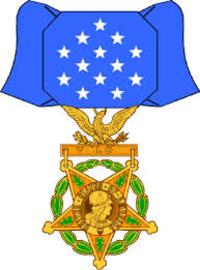 The Medal of Honor
Description: A gold five pointed star, each point tipped with trefoils, 1½ inches wide, surrounded by a green laurel wreath and suspended from a gold bar inscribed "VALOR", surmounted by an eagle.  In the center of the star, Minerva's head surrounded by the words "UNITED STATES OF AMERICA."  On each ray of the star is a green oak leaf.  On the reverse is a bar engraved "THE CONGRESS TO" with a space for engraving the name of the recipient.
Congressional Medal of Honor Society web page: https://www.cmohs.org/
History of the Medal of Honor: https://www.army.mil/medalofhonor/history.html
Medal of Honor – The History (A Vimeo Video Documentary Rivr Digital): https://vimeo.com/100896594

Ghosts of Fallujah
Ghosts of Fallujah (written by Coley D. Tyler) is a first person account of the Second Battalion, Seventh Cavalry's participation in the Second Battle of Fallujah, the largest single engagement of the Iraq War and the largest urban battle since Hue in 1968. A First Marine Division operation, it was spearheaded by one of the […]

Public Request for Division Assets (Band/Horse Cav Detachment/Honor Guard)
Need to request a Division asset: the Band, Horse CAV Detachment, or Honor Guard? Fill out the provided DD Form 2536 and email it to: SFC Kristin M. Chandler at usarmy.hood.1-cd.mbx.1cd-division-comrel@mail.mil.  If you have any questions about filling out the form call SFC Chandler at 254-288-2601. DD2536 Asset Request Form