SP4 Jesus S. Duran*
Medal of Honor Citation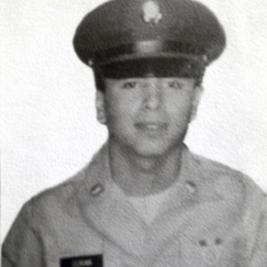 Rank and organization: Specialist Fourth Class, Company E, 2nd Battalion, 5th Cavalry, 1st Cavalry Division (Airmobile)

Place and date: Republic of Vietnam, 10 April 1969

Entered service on: 13 May 1968

Born: 26 July 1948, Juarez, Mexico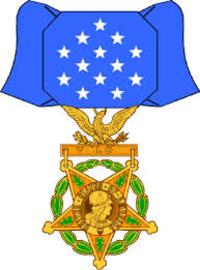 Citation: Specialist Four Jesus S. Duran distinguished himself by acts of gallantry and intrepidity above and beyond the call of duty while serving as an acting M-60 machine-gunner in Company E, 2d Battalion, 5th Cavalry, 1st Cavalry Division (Airmobile) during combat operations against an armed enemy in the Republic of Vietnam on April 10, 1969. That afternoon, the reconnaissance platoon was moving into an elaborate enemy bunker complex when the lead elements began taking concentrated ambush fire from every side. The command post was in imminent danger of being overrun. With an M-60 machine gun blazing from his hip, Specialist Four Duran rushed forward and assumed a defensive position near the command post. As hostile forces stormed forward, Specialist Four Duran stood tall in a cloud of dust raised by the impacting rounds and bursting grenades directed towards him and thwarted the enemy with devastating streams of machinegun fire. Learning that two seriously wounded Troopers lay helplessly pinned down under harassing fire, Specialist Four Duran assaulted the suppressive enemy positions, firing deadly bursts on the run. Mounting a log, he fired directly into the enemy's foxholes, eliminating four and cutting down several others as they fled. Specialist Four Duran then continued to pour effective fire on the disorganized and fleeing enemy. Specialist Four Duran's extraordinary heroism and selflessness above and beyond the call of duty are in keeping with the highest traditions of military service and reflect great credit upon himself, his unit and the United States Army.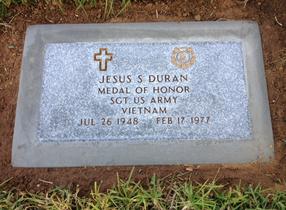 *Awarded Posthumously

SP4 Duran was awarded the Medal of Honor posthumously on 18 March 2014 by President Barack H. Obama.  The Medal of Honor was accepted on his behalf by his daughter, Tina Duran-Ruvalcalba.  SP4 Duran died on 17 February 1977 and is buried at Olivewood Cemetery, Riverside, California.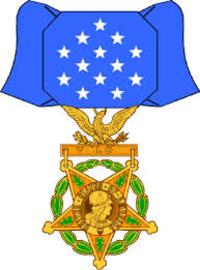 The Medal of Honor
Description: A gold five pointed star, each point tipped with trefoils, 1½ inches wide, surrounded by a green laurel wreath and suspended from a gold bar inscribed "VALOR", surmounted by an eagle.  In the center of the star, Minerva's head surrounded by the words "UNITED STATES OF AMERICA."  On each ray of the star is a green oak leaf.  On the reverse is a bar engraved "THE CONGRESS TO" with a space for engraving the name of the recipient.
Congressional Medal of Honor Society web page: http://www.cmohs.org/
History of the Medal of Honor: http://www.army.mil/medalofhonor/history.html
Medal of Honor – The History (A Vimeo Video Documentary Rivr Digital): https://vimeo.com/100896594
Ghosts of Fallujah
Ghosts of Fallujah (written by Coley D. Tyler) is a first person account of the Second Battalion, Seventh Cavalry's participation in the Second Battle of Fallujah, the largest single engagement of the Iraq War and the largest urban battle since Hue in 1968. A First Marine Division operation, it was spearheaded by one of the […]
Cav Hat and Spurs
4 March 2019 – A new memorandum of instruction (MOI) has been added to the Cav Hat and Spurs page along with minor changes to the text.