1LT Samuel S. Coursen*
Medal of Honor Citation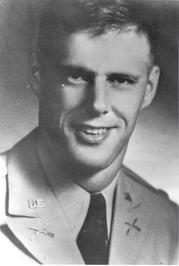 Rank and organization: First Lieutenant, U.S. Army, Company C, 5th Cavalry Regiment
Place and date: Near Kaesong, Korea, 12 October 1950
Entered service at: Madison, New Jersey
Born: 4 August 1926, Madison, New Jersey
G.O. No.: 57, 2 August 1951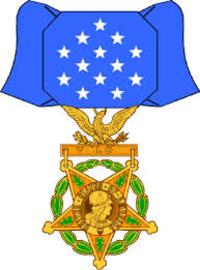 Citation: 1LT Coursen distinguished himself by conspicuous gallantry and intrepidity above and beyond the call of duty in action. While Company C was attacking Hill 174 under heavy enemy small-arms fire, his platoon received enemy fire from close range. The platoon returned the fire and continued to advance. During this phase one of his men moved into a well-camouflaged emplacement, which was thought to be unoccupied, and was wounded by the enemy who were hidden within the emplacement. Seeing the Soldier in difficulty he rushed to the man's aid and, without regard for his personal safety, engaged the enemy in hand-to-hand combat in an effort to protect his wounded comrade until he himself was killed. When his body was recovered after the battle 7 enemy dead were found in the emplacement. As the result of 1LT Coursen's violent struggle several of the enemies' heads had been crushed with his rifle. His aggressive and intrepid actions saved the life of the wounded man, eliminated the main position of the enemy roadblock, and greatly inspired the men in his command. 1LT Coursen's extraordinary heroism and intrepidity reflect the highest credit on himself and are in keeping with the honored traditions of the military service.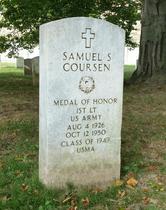 *Awarded Posthumously
On 21 June 1951, 1LT Coursen's young 14-month-old son, Samuel, Jr., was presented the award in a Pentagon ceremony conducted by Joint Chiefs of Staff Chairman and General of the Army Omar N. Bradley.  1LT Coursen is buried in the United States Military Academy Post Cemetery at West Point, New York.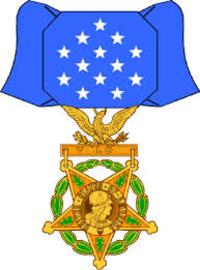 The Medal of Honor
Description: A gold five pointed star, each point tipped with trefoils, 1½ inches wide, surrounded by a green laurel wreath and suspended from a gold bar inscribed "VALOR", surmounted by an eagle.  In the center of the star, Minerva's head surrounded by the words "UNITED STATES OF AMERICA."  On each ray of the star is a green oak leaf.  On the reverse is a bar engraved "THE CONGRESS TO" with a space for engraving the name of the recipient.
Congressional Medal of Honor Society web page: http://www.cmohs.org/
History of the Medal of Honor: http://www.army.mil/medalofhonor/history.html
Medal of Honor – The History (A Vimeo Video Documentary Rivr Digital): https://vimeo.com/100896594
Ghosts of Fallujah
Ghosts of Fallujah (written by Coley D. Tyler) is a first person account of the Second Battalion, Seventh Cavalry's participation in the Second Battle of Fallujah, the largest single engagement of the Iraq War and the largest urban battle since Hue in 1968. A First Marine Division operation, it was spearheaded by one of the […]
Cav Hat and Spurs
4 March 2019 – A new memorandum of instruction (MOI) has been added to the Cav Hat and Spurs page along with minor changes to the text.