27 June 2022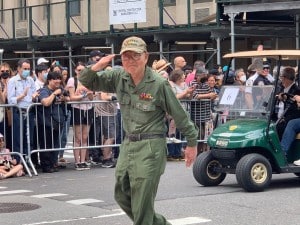 All service members regardless of branch or unit assignment, relatives and interested parties are invited to the next meeting of the New York/New Jersey Chapter of the 1st Cav Division on Saturday, October 15. The meeting will be held from 10 AM to 2 PM at the Elks Club in Ridgefield Park (30 Spruce Avenue). There is no charge to attend, and a buffet lunch will be served. Please join us to meet old friends and meet new ones.
Our guest speaker at the October meeting will be Takeshi "Tak" Furumoto.
After graduating from UCLA in 1967, Tak enlisted in the Army completing Basic and AIT at Ft. Leonard Wood, MO. This was followed by Engineering OCS at Ft. Belvoir, MD, the Monterey Language School in CA, and Combat Intelligence School at Halibut, MD.
As a 1st Lieutenant, Tak served a tour in Vietnam from February 1970-71 as an Intelligence Officer at the Due Hue District, Hau Nghia Province near the Cambodian Border (Parrot's Beak) in III Corps. He was assigned as an advisor to the Vietnam National Police Chief, during the CIA's Operation PHOENIX. He worked to neutralize VC infrastructures in the district. He was awarded the Bronze Star for actions during the Cambodian invasion by US and ARVN forces in 1970.
Returning to the US, Tak suffered from both PTSD and AO poisoning. He has been active in real estate development in Fort Lee, NJ, the town's Chamber of Commerce, VFW Troop 2342, and in human rights activities. Tak will discuss some specific engagements in Vietnam and thoughts on the war.
For more information about this meeting please contact Robin Bartlett, President, NY/NJ Chapter 1 CDA, rbbartlett01@gmail.com
10 May 2022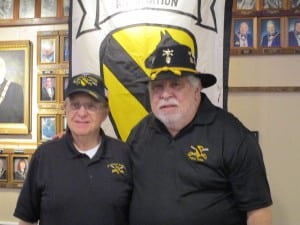 Photo Caption: L To R NewChapter President Robin Bartlett and Bob Arbasetti
On April 31, The New York-New Jersey Chapter held its spring meeting, the last meeting that I will have as president.  The chapter elected a new president, Robin Bartlett.  In the next issue of the Saber, Robin will introduce himself.  We had a good turnout.  Everyone seems happy to see each other.  Once again, we were fortunate to have Meegan Wadleigh as our photographer; despite dealing with a primitive camera and crusty old Veterans, her work was outstanding
I want to thank everyone who not only turned out this time but all who have helped and supported me through my presidential term.  Thanks to the 1st Cavalry Association and the kind people who have guided me over the past 20+ years.  I also want to thank Fred Robins, Bob Heintz, and all chapter members past and present who have contributed to my success
I want to leave everyone with the idea that it's time to share your story and tell who you were when you went to War.  Don't let others tell a story that is not yours.  Let them know what life was like back then, how little life experience we had.  Although the war was unpopular, we served our country with pride. Tell Family and friends about all those we met along the way.  Some good, some bad but all our brothers.  Tell of sacrifice we share; the loss of life and explain how the War has lived in us for so many years and how it has become the filter we see the world.
2021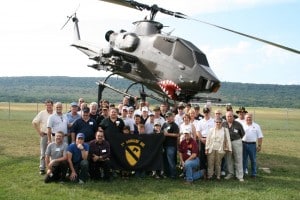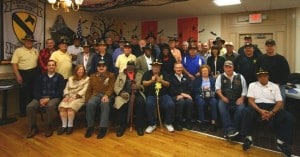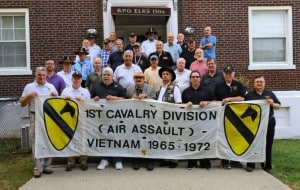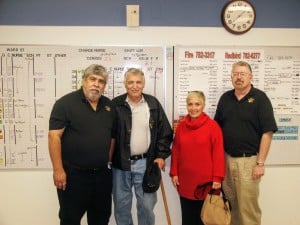 During the timeframe of the Afghanistan war, I thought about returning to Walter Reed Army Medical Center to visit wounded Soldiers.  The best time to do this wound be Veterans Day week in Washington D.C.  The 1st Cavalry Div Association stays at a hotel for Veterans week, and this is an excellent place to assemble our team.  I knew that it would be a difficult visit and the best way was to form a team.  Edie Meeks, a nurse in an army field hospital in Vietnam, was the first person I approached.  I knew that her ability to deal with patients and hospital situations would steady the team.  Then I sought chapter members and friends who were wounded in combat, whom I knew in Washington, to join the group.
On our first visit, I realize that none of us were prepared for what we were about to experience.  Even though the Soldiers were in their twenties, they seem like school-age children. We were surprised to see many female Soldiers with a few missing limbs because of many roadside bombs.
All were happy to see us; some wanted to show us videos that they shot.  Others wanted to show pieces of shrapnel that were taken out of their bodies.  Others wanted to display their scars.  Most patients wanted someone to talk to.  The hospital can be a lonely place to be.
Everyone seems pleased to visit with these Soldiers.  It reminds one of the sacrifices they made.  To me, it just how terrible war is and how costly the price that is paid.
The New York-New Jersey Chapter will hold its Fall Meeting on Oct 16, 2021, at the Ridgefield park Elks Lodge in Ridgefield Park NJ. Check out the Facebook page for updates.
Bob Arbasetti, president