20 April 2022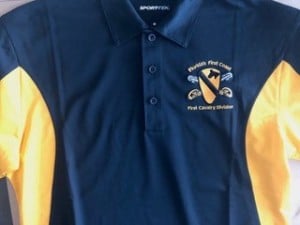 Our comradeship continues.  We do not so much rehash the past as we do look to the future.
We alternate our meetings Southside to Westside in Jacksonville at locations convenient to St.Augustine, Palatka, Yulee, Mayport and Macclenny.
Call the listed number for which BBQ joint we will visit next.
In March our presentation was from Chris Miller, a staff member of our Congressman, John Rutherford, and candidate for local office in his own right.
Chris spoke to us on the state of the city, Jacksonville, and his vision for the same.
In April, Ron Hasty, the Veteran Outreach Coordinator for the University of Florida Health System, presented his program that addresses TBI.
His wellness and recovery programs have other locations throughout the USA.  They accept referrals for evaluation and treatment at 904-244-3289.
All veterans are eligible to apply for this TBI program.
We continue to be represented at veterans conferences where our distinctive gold and black Cav shirts and hats distinguish us.
If you would like to order uniforms for your own Chapter, call Lou Urso at 516-987-2898 for routing to the vendor.
22 February 2022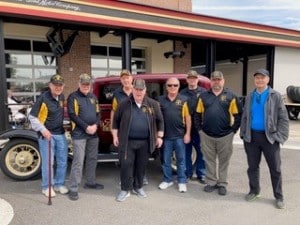 February was travel month for us as we accepted Jeff Lay's request to visit St. Augustine FL.
If not already in your home town, it's coming, that is a cafeteria at a car dealership.
We tip our hat to Bozard Ford just off I 95 at SR 16 in St. Augustine.  Jeff is second from the right and in proper uniform.
A week later we traveled all the way to downtown Jacksonville to attend the Vets4Vets conference.
All in uniform, we attracted attention and our secretary, Ray Skipper signed up four new applicant vets that saw us and hastened to apply.
Ray is second from the left in the picture.  And, we found two speakers for our next meetings.
Thanks Johnny Michael for showing our flag, literally.  Johnny is third from the right.
Unfortunately, by the time you are reading this, time will have slipped into the future as the song was once sung.
So, if you live in Palatka, Bostwick, Yulee, Maclenny, Vilano or even Hastings, call the above number to get onto the meeting notification list.
16 December 2021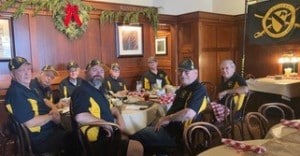 Greetings for the New Year from north of St. Augustine and south of St. Marys, the land of no state income tax.
In October 2021, we heard from Jon Singleton (USN of all things) who told us of how he toiled to extract his interpreter from Afghanistan.
In November we listened to Col.(ret) John Porter's AAR tales of command including finding and redirecting the lost convoy.
Our December meeting featured double thick buffalo or beef burgers from Ted's Montana Grill in Orange Park.
January will see city councilman at large, Matt Carlucchi, speak to us at our return to Southside and Miller's Ale House.
St. Augustine, Palatka, Palm Valley, Crescent Beach and Hastings wake up.  We are headed your way in February to Ford's Restaurant near the outlet mall exit off of I95.
Watch your emails or call 904 534 8899.
Correction to the last report:  Leigh Ware was reported to be in his 90's.  He is only 89.  He is still, however, our hero from the Occupation of Japan days.
And here we all are including Jeff Lay, sporting his winter beard, who drives up from St. Johns County.  That's Lou Urso out of uniform without his cap.
We thank Johnny Michael for the construction of our chapter flag.
18 November 2021
DECEMBER Meeting:
Tuesday the 14th at 12:00
Ted's Montana Grill, Just south of I 295 on Blanding Blv, Orange Park
Family gathering.  Wives, and others of importance to you are invited.
It would be good to let Doc Skipper know in advance of you and others attending for the appropriate reservation number.
904 573 0134
June 2021
On Memorial Day, we had a representative at the Jacksonville National Cemetery for the proceedings there.
One of our own will soon take the Honor Flight from here to Washington.  Honor Flight does just that, honors vets with a day at the Memorials in D. C.
At our June meeting, we had two presentations which should be of interest to other Chapters.
1. Operation Barnabas: a group that finds, houses, rehabs, veterans in need or other distresses.
Contact person is Raylan Heck 904 401 2972.
2. U.S. Veteran Reserve Corps: a group of vets that supplements first responders in times of local emergencies.
Contact person is Carl Lay 904 679 2155.
We urge other Chapters to consider these two groups in your support planning.
April 2021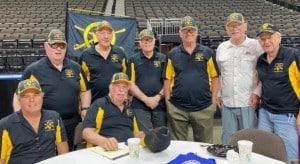 We made it to the Vets 4 Vets convention at the Jacksonville Arena as you can see.  How about our Chapter caps?  Pretty snazzy and ordered by Lou Urso our Treasurer.  And what about our own Chapter Flag in the background? 1st Class operation we say.  Sam Berninger is our VP, Ray Skipper our Secretary and Johnny Michael our Sgt at Arms.
Because of the geographic size of Jacksonville, we alternate meetings between Southside and Westside.
You will get this Saber just in time to make our June 15th meeting at Ted's Montana Grill on San Jose Blvd.  Stay tuned or get on the mailing list for more details.
Our only problem with the Arena meeting was that the next table over won the 50/50 door prize.  We were one ticket away from having to report to the IRS.   But we did add two more names to the email notification list.  Feel left out?  See contact info above.
We regret the passing of James Murphy.  He was a great guy, and we keep his memory with us.