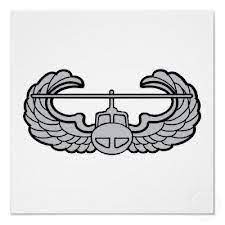 ATTENTION VIETNAM FIRST TEAM VETERANS:
DEADLINE FOR SUBMISSION: 1 AUGUST 2021
The 1st Cavalry Division and the Association is planning to recognize our Vietnam Veterans during the 73rd Annual Reunion, 22-26 September 2021.  We would like to personally recognize the men and women that served in Vietnam with the 1st Cavalry Division (Air Mobile) with the Honorary Air Assault Certificate due to their contributions and execution of air assault missions during the campaign.  If you, or a Veteran you know, meets all the following qualifications, please reach out to the 1st Cavalry Division Association [firstcav@1cda.org or 254-547-6537]. Badges can be purchased thru the Gift Shop [https://shop.1cda.org/].
QUALIFICATIONS:
1) Was assigned or attached to a combat unit in the 1st Cavalry Division (Air Mobile) in Vietnam during the period from 1965 – 1972 AND
2)Served in direct combat in a Combat Arms duty MOS (Infantry, Combat Medic, Cavalry, Engineers, Field Artillery, Aviation) with the 1st CD in Vietnam; OR was working in a Combat Support MOS assigned or attached to 1st CD combat unit in Vietnam AND
3) Awarded the CIB, CMB, Air Medal, ARCOM with V device, Bronze Star, Silver Star, DSC/DFC, or Medal of Honor; OR Conducted 25 or more Combat Helicopter Assaults or a lesser number of "hot" LZs AND
4) Graduated from AIT, WOC/Flight School, OCS, OBC, First Team Academy (An Khe), CLC, or RECONDO during the Vietnam war era AND
5) Provide a copy of form DD-214 (social security number blocked out) and/or additional award documents if the DD-214 is not updated.
Send applications to:
1st Cavalry Division Association
Attn: Executive Director
302 N Main St
Copperas Cove, TX 76522