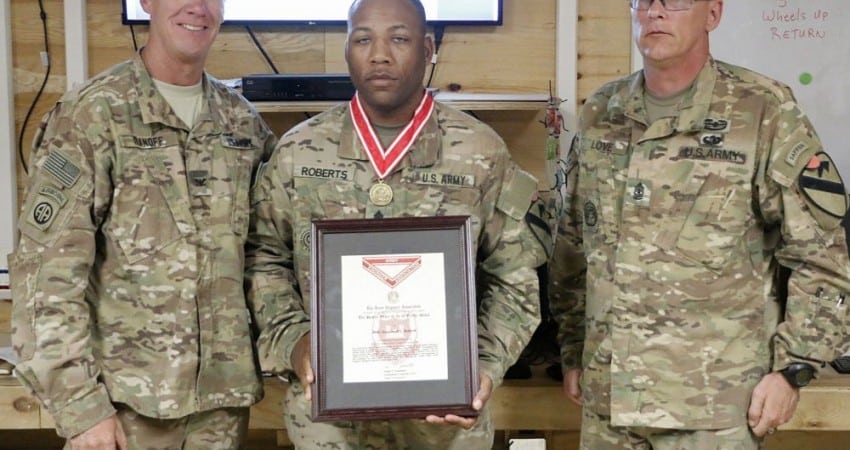 Media Release
Task Force Southeast
Gardez, Afghanistan
(308) 457- 1139
FOR IMMEDIATE RELEASE
RELEASE No. 20170708-04
By Sgt. Christopher Dennis
1st Cav. Div PAO
GARDEZ, Afghanistan ­­– Half a world away from Fort Hood, Texas, located outside of Gardez, Afghanistan, Master Sgt. Danjumall Roberts, an engineer assigned to the Police Advisor Team of Task Force Southeast, received one of the highest awards an Engineer can receive — the Army Engineer Association's De Fleury Medal.
The De Fleury Medal is a symbol of leadership and devotion to the engineering career field presented to only a few Soldiers every year.
This award hits close to home for Roberts as leadership is a huge focus in his life.
"People and leadership keep me motivated, I think that leadership is one of the most important things that you can do in life, period," said Roberts.
Roberts joined the U.S. Army in March of 2000, straight from the streets of St. Louis, as a bridge crewmember.
In the 17 years since joining, he has conducted four combat deployments, participated in three theatre-level exercises with numerous allied nations, trained more than 2,000 future Engineers, and served as the 1st Cavalry Division Inspector General noncommissioned officer in charge.
Some of his most notable achievements are helping facilitating supply routes to Thule Air Force Base in Greenland, when it was cut off from ground supply routes due to melting glacial ice or helping in the successful construction of the longest float bridge ever erected during combat; the Birthday Bridge in Tikrit, Iraq spanning 580 meters.
It is his personal focus on service, contributions and leadership to the Army Engineer Regiment that led him to getting this award.
"I've been fortunate, throughout my career, to have good leaders above me and below me," said Roberts, "I've also been very fortunate and grateful that no one has ever told me that I have to be a certain way. I have always been allowed to be the kind of leader that I was born to be."
Col Kelly Ivanoff (Left), Deputy Commander for Task Force Southeast, and Command Sgt. Maj. Tony Love (Right), Senior Noncommissioned Officer for the Police Advisor Team, award Master Sgt. Danjumall Roberts (center) the De Fleury medal July 13 at the Police Advisor Team office on Advising Platform Lightning. The De Fleury is a symbol of leadership and devotion to the engineering career field presented to only a few Soldiers every year. (U.S. Army photo provided by Sgt. Christopher B. Dennis, 1st Cavalry Division PAO.)
Col Kelly Ivanoff (Left), Deputy Commander for Task Force Southeast, and Command Sgt. Maj. Tony Love (Right), Senior Noncommissioned Officer for the Police Advisor Team, award Master Sgt. Danjumall Roberts (center) the De Fleury medal July 13 at the Police Advisor Team office on Advising Platform Lightning. The De Fleury is a symbol of leadership and devotion to the engineering career field presented to only a few Soldiers every year. (U.S. Army photo provided by Sgt. Christopher B. Dennis, 1st Cavalry Division PAO.)
Master Sgt. Danjumall Roberts, Counter IED Awareness Noncommissioned Officer for the Police Advisor Team, talks about what this award means to him as he accepts the De Fleury medal July 13 at the Police Advisor Team office on Advising Platform Lightning. The De Fleury is a symbol of leadership and devotion to the engineering career field presented to only a few Soldiers every year. (U.S. Army photo provided by Sgt. Christopher B. Dennis, 1st Cavalry Division PAO.)
The De Fleury Medal (As Shown) is an award by the US Army Engineer Association and was named in honor of François-Louis Teissèdre De Fleury, a French Engineer that fought in the Continental Army. The De Fleury is seen as a symbol of leadership and devotion to the engineering career field presented to only a few Soldiers every year. (U.S. Army photo provided by Sgt. Christopher B. Dennis, 1st Cavalry Division PAO.)